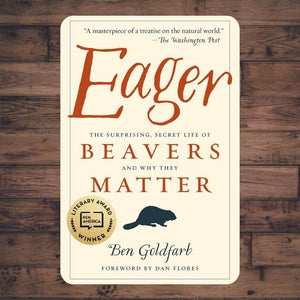 Eager : The Surprising, Secret Life of Beavers and Why They Matter
Regular price $17.95 Sale
Written by Ben Goldfarb
Winner of the PEN/E.O. Wilson Literary Science Writing Award.
Students visiting Sutter's Fort often learn about the impact of the fur trade- especially beaver- on this history of California. Back in the 19th Century, beavers were in high-demand due to the appeal of top hats and the booming fur trade led to the near-extinction of the beaver in North America. 
In this book, readers will learn more about beavers and how they fit into the ecosystem. 
Here's a quote from National Geographic's review of the book – "Eager takes us inside the amazing world of nature's premier construction engineer…and shows us why the restoration of an animal almost driven to extinction is producing wide ranging, positive effects of our landscapes, ecology, and even our economy"